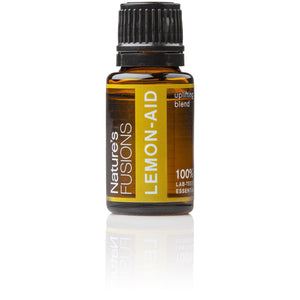 15ml
Reduce fear and anxiety
Twelve citrus oils brighten the gloomiest day. Lemon-aid has a hint of eucalyptus.
Usage Methods: Apply to hands and breathe deeply, diffuse for a bright, uplifting atmosphere

Research & Fun Facts
Lemon oil, and blends that contain it, will dissolve plastic or adhesive residue. Apply a drop, use a paper towel to wipe away the residue, then repeat
For the same reason, use care when storing homemade solutions that include lemon oil
Citrus oils, when diffused in dental offices, increase the peace felt by patients
D-limonene, the primary ingredient in citrus oils, has been correlated with increased kindness and honesty when diffused in sub-olfactory levels (see The Smell of Virtue, Liljenquist, BYU)
Try diffusing Lemon-aid to clear unwanted odors
Contains: Lemon, Eucalyptus Radiata, Bergamot, Mandarin, Orange & Neroli.