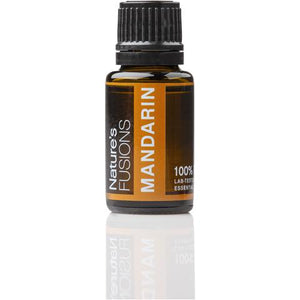 15ml
100% Pure, Mandarin Essential Oil.
The mandarin is smaller than an orange, with sweeter flesh and a sharper taste and smell, grown on the citrus reticulata tree. Our mandarin essential oil is cold-pressed from the skin of mandarins grown in Italy.
Common Uses:
Mandarin is prized for its potent smell, and is a common ingredient in perfumes and cosmetics. Aromatically, mandarin can help promote restful sleep and soothe anxious nerves. Diffuse or apply topically in 2-5% dilution.
Aromatic Scent:
Mandarin Essential Oil has an intense, sweet, fresh scent characteristic of citrus fruit
History:
The name is said to come from the fact that it was a traditional gift to the mandarins of China. It is native to southern China and the Far East, and was brought to Europe in 1805 and to the USA forty years later.
Cautions:
There is some evidence that Mandarin Essential Oil is photo-toxic. Direct sunlight should be avoided after use. 
Avoid use during pregnancy.