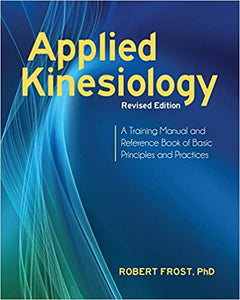 The revised edition of the best-selling book on Applied Kinesiology, 
Applied Kinesiology, Revised Edition
 introduces a diagnostic method that uses manual muscle testing to assess the body's "Triad of Health"--structure, chemistry, and psyche. 
Manual muscle testing is a standard medical diagnostic technique. As in medical muscle testing, AK muscle testing utilizes full-strength contraction of the muscle tested. To perform the AK muscle test, the examiner provides isometric resistance while the patient maximally contracts the chosen muscle. Then the examiner applies a bit more pressure. If the client cannot resist this extra pressure, the muscle "tests weak," indicating a problem or imbalance that needs to be resolved. This type of strong physiological muscle test is especially accurate for the diagnosis of organ disturbances. Further applications include working with a muscle that tests strong "in the clear" as a diagnostic tool to determine the effect of stimuli including touch, nutrients, medicines, allergens, emotions, poor posture, and stressful memories. 
Opening with a detailed description of the history and applications of Applied Kinesiology, the book covers the theory, procedure, and intepretation of the muscle test including diagnosis and correction techniques for areas of weakness. Thirty-three muscle tests for different areas of the body are accompanied by instructive photographs with superimposed anatomical drawings that demonstrate the method and various treatment points. A useful appendix includes a glossary of anatomical terms and special vocabulary; a step-by-step plan for conducting a session; and a list of contacts and sources for Applied Kinesiology materials. Offering a new preface and additional techniques in the areas of manual medicine, orthomolecular medicine, and psychology, this revised edition shares the author's discoveries as well as anecdotal observations to stimulate further research.