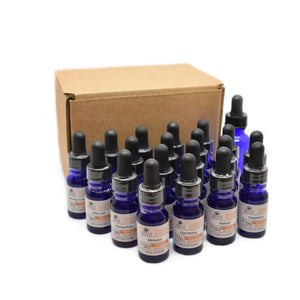 This is a great starter kit for any natural health practitioner who is beginning to work with flower remedies. The kit includes 18 single flowers, one Calming Essence, and one empty dropper bottle (used for blending remedies).
Each bottle in the kit is 10.5 ml (except for the empty dropper bottle which is 1 oz).
Each flower remedy is in an alcohol base (27% ABV, non-kosher).
Remedies included in this kit (#1):
Agrimony
Aspen
Beech
Centaury
Cerato
Elm
Holly
Impatiens
Larch
Mimulus
Oak
Olive
Rock Water
Scleranthus
Walnut
Water Violet
White Chestnut
Wild Oat
Calming Essence (contains Rock Rose, Impatiens, Clematis, Cherry Plum and Star of Bethlehem)