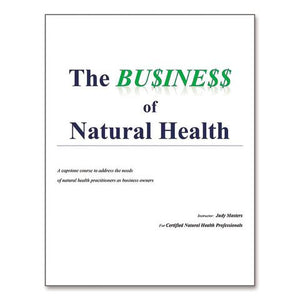 If you have an interest in turning your passion for natural health into a business, or you already have and just need to tweak a few things, this is the course for you.
 
There are so many ways to get a practice or a retail business started but it's not always easy to find courses that meet the needs of the natural health practitioner.  We have specific legal and legislative concerns to which we must be attentive.  We must also consider our education, certifications and reputable product sources, while still taking care of the bottom line.
 
All successful businesses must consider structure, feasibility and growth.  To establish a new business or grow an existing one, a written formal business plan must be in place.  The Business of Natural Health provides you with all the information you need to write your formal business plan, evaluate your current business, apply for small business loans, and qualify for grants and matching funds.  You will find recommendations for free and inexpensive advertising, great natural products companies, small business support organizations and templates to get your business plan established and ready to work for you!
Includes two DVDs only. A printed manual is not included. Instructions on how to download a course manual will be provided with the discs.