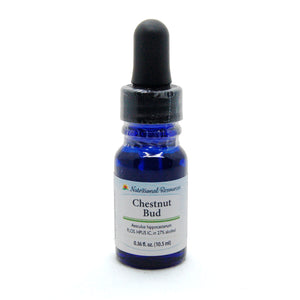 For those who repeatedly make the same mistakes and are unable to learn from past experience.
Psychological Characteristics: Repeats mistakes as they do not learn from experience, does not take advantage of history but are doomed to repeat mistakes, strong willed person who is inflexible with a strong mind set, circumstances tend to repeat themselves.
Physical Indications: Slow to learn and slow to observe, sometimes awkward and inattentive, happy-go-lucky type, nothing ever changes for them as they continually make the same bad choices.
Positive Outcome: Ability to learn from life experiences and to move forward with gained wisdom and intelligence.
Directions: Two to three drops in a quarter glass of water (or taken directly under the tongue). Sip at intervals. Concentrated homeopathic remedy, enough for many months use.
Aesculus Hippocastanum
FLOS. HPUS 1C, in 27% Alcohol
0.36 fl. oz. (10.5ml)
Warning: Keep this and all medicines out of the reach of children. As with any drug, if you are pregnant, nursing or if symptoms persist, consult your health care professional before using this product.
 *These statements have not been evaluated by the U.S. Food and Drug Administration. These products are not intended to diagnose, treat, cure or prevent any disease.