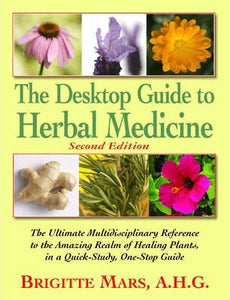 Herbal medicine is the most time-tested healing tradition in the world, having evolved over hundreds of thousands of years in disparate regions and diverse cultures. In The Desktop Guide to Herbal Medicine, Second Edition, renowned herbalist Brigitte Mars draws from healing traditions around the world to offer a concise, comprehensive, eclectic guide to the vast array of medicinal herbs commonly available in North America. You'll find detailed monographs of more than 180 herbs, from the commonplace tea and raspberry to the weedy dandelion and goldenrod to the more exotic ho shou wu and zedoary. Each monograph gives a broad range of information about the herb, from its physiological effects and constituents to its energetics, historical and current medicinal uses, edible properties, and natural range -- all in a quick-study format that allows readers to access the information they need swiftly and simply.
When we welcome herbs into our lives and learn to use them safely, effectively, and confidently, we empower ourselves to take charge of our own health. This one-stop reference is an invaluable companion in that pursuit: the study, prescription, and use of herbs to achieve vibrant health, mitigate illness, and correct physiological imbalances.
As she does in her many other books, Mars writes with the goal of guiding readers toward the safe and effective use of plants as healing and preventative medicine. Her forthright tone, pragmatic advice, and gentle humor shine here, inviting readers to use The Desktop Guide to Herbal Medicine as both a study aid and a wide-ranging exploration of the plant realm.