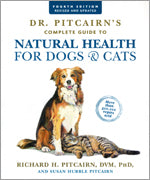 This definitive guide introduces nutritionally complete recipes to give your pets optimal health by making home prepared diets easier than ever. The Pitcairns also discuss behavior issues, general nutrition, and a more humane approach to caring for pets. 
Promoted products: legumes, leans meats, eggs, whole grains, fruit, vegetables, nuts, seeds, and healthy fats.
 4th edition, 2017. 7 1/2" x 9 1/4" x 1 1/4". 500 pp. (C) Copyright 2017 Royal Publications Inc.