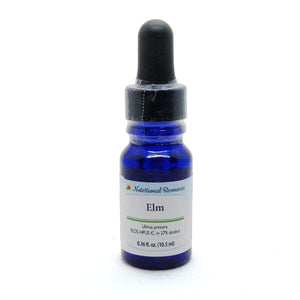 For those who are temporarily overwhelmed and burdened by their responsibilities.
Psychological Characteristics: Overwhelmed, temporary loss of self-confidence, feelings of inadequacy, inability to keep up with tasks or goals, feel burdened with responsibilities.
Physical Indications: Exhaustion, depression, problems manifest themselves out of a true perspective.
Positive Outcome: Increased confidence in their work and their abilities, efficient and self-assured and a new perspective with an ability to carry out tasks despite difficulties.
Directions: Two to three drops in a quarter glass of water (or taken directly under the tongue). Sip at intervals. Concentrated homeopathic remedy, enough for many months use.
Ulmus Procera
FLOS. HPUS 1C, in 27% Alcohol
0.36 fl. oz. (10.5ml)
Warning: Keep this and all medicines out of the reach of children. As with any drug, if you are pregnant, nursing or if symptoms persist, consult your health care professional before using this product.
 *These statements have not been evaluated by the U.S. Food and Drug Administration. These products are not intended to diagnose, treat, cure or prevent any disease.