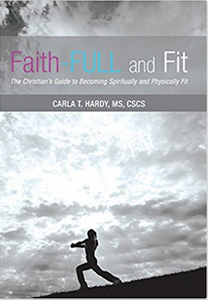 Have you unsuccessfully tried to lose weight, get healthy, or change your lifestyle? We struggle every day fighting our urges, temptations, and so much more; but often our battles are not physical in nature, but based on a need in our spiritual lives.
Faith-FULL and Fit has the antidote required to change that-whipping both the spirit and the body into divine shape. This program uses an introspective approach to improving your lifestyle by looking within first, healing the body from the inside out. It teaches you to recognize, focus on, and change the inner, spiritual issues first. Inward cleansing and healing will in turn produce an outward change. You can develop a closer relationship with God and learn to let him lead, while renewing the heart and mind to elicit lasting, healthier decisions.
Faith-FULL and Fit not only provides the physical tools needed to live a healthy lifestyle and maintain it, but also offers biblical and spiritual guidance to help fill the hollowness in the spirit that causes us to seek physical fulfillment. Practical meal plans, fat-burning and inch-shedding workouts, the keys to a fulfilling spiritual life, and much more are included in this handy guide.