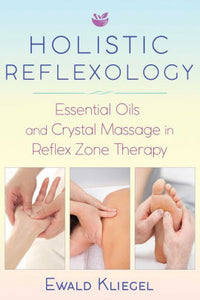 A guide to reflexology treatments combined with complementary therapies to restore energetic balance, relieve pain, and support healing
• Provides more than 30 full-color maps of reflex zone systems from head to toe, including the ears, mouth, tongue, fingernails, and torso
• Explains how to incorporate supportive therapies such as essential oils, crystal wand massage, and visualization to maximize healing
• Examines the history and evolution of reflexology, revealing both its Eastern and Western roots, as well as recent international advancements
Expanding the practice of reflexology beyond the feet and hands, Ewald Kliegel illustrates how to precisely and quickly treat different emotional and physical disorders with an integrated combination of reflexology and complementary therapies. Applying the fundamental principles of reflexology to the entire body, he provides more than 30 full-color maps of reflex zones from head to toe, including reflex zone systems of the ears, mouth, tongue, fingernails, and torso.
The author details reflexology techniques for each reflex zone and discusses how to incorporate essential oils and gemstones during active touch and reflexology sessions, including the benefits of crystal massage for post-stroke recovery. Drawing on international advancements in reflexology, including the work of craniosacral reflexologist Martine Faure-Alderson, Russian researcher Alexander Kachan, Chinese biologist Zhang Yingquing, and Korean physician Tae Woo Yoo, Kliegel examines how to integrate Yin-Yang massage strokes, metacarpal reflexology techniques, Korean Hand treatments, and craniosacral massage principles into reflexology treatments to restore energetic balance, relieve pain, and support healing. He outlines specific treatment protocols, including holistic reflexology treatments for headache, digestive problems, and back pain. Providing step-by-step instructions for diagnostic testing, he also outlines supportive approaches such as visualization to balance the energies of the body and an active meditation to troubleshoot congested locales in the body.
Examining the history and evolution of reflexology, the author reveals not only the ancient Eastern medical practices that played a role in reflexology's genesis, but also its ancient European roots. Providing a truly holistic and integrative approach to reflexology, Kliegel reveals many different hands-on paths to healing that embrace the energetic interconnections of mind and body.