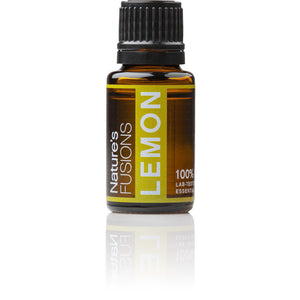 15ml
100% Pure, Lemon Essential Oil.
The citrus limonum is an evergreen with deep green, shiny foliage. Its fruit is used in cuisine throughout the world. Our lemon oil is cold-pressed from the peel of Italian lemons.
Common Uses:
Lemon oil is often used in cleaning agents, as it quickly and easily dissolves sticky residues and can clean away difficult grime. Topically, it can cleanse the skin. Aromatically, lemon has powerful uplifting properties. Diffuse, add to cleaning agents, apply directly to difficult-to-clean areas, or apply in 2-5% dilution.
Aromatic Scent:
Lemon Essential Oil has a strong citrus scent.
History:
The fruit was well known in Europe by the middle ages, and Greeks and Romans were advocates of its therapeutic properties. Lemon essential oil reached the height of its fame when the British began using the citrus fruit to counteract the effects of scurvy.
Cautions:
Lemon Essential Oil is non-toxic, but may cause skin irritation in some. Lemon is also phototoxic and should be avoided prior to exposure to direct sunlight. Avoid during pregnancy.