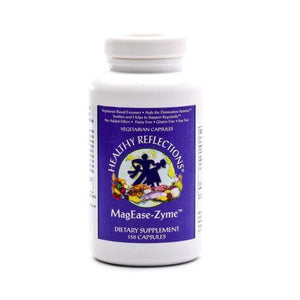 SUPPORT CIRCULATION
This unique Proteolytic, Cellulolytic, Enzyme, Mineral and Aquatic Botanical formulation helps to promote circulation, Immune modulation, and detoxification, while helping to support the circulatory, lymphatic, cardiovascular, urinary and elimination systems.
Gluten Free • Non-Dairy • Non-Soy
Vegetarian Capsules • No Added Fillers
150 capsules per bottle
MAGNESIUM ENZYME SUPPLEMENT
"Soothes, Aids and Helps to Support Regularity of the Elimination Systems"*
A unique blend of active Vegetarian Enzymes, an aquatic botanical and magnesium designed to help:
Support digestive functions*
Support the elimination of excess intestinal waste accumulation*
Support and soothe occasional intestinal and elimination discomfort*
Support and soothe regularity*
Support natural stimulation of bowel motility, encouraging the urge to have regular bowel movements, relief from occasional gas and constipation*
Support regular elimination of accumulated toxins*
Support regular binding of heavy metals and other toxic substances in the detoxification process*
Support regular colon cleansing*
Support removal of putrefactive (decayed) bacteria from the colon*
Support the regular release of undigested residue*
Relieve occasional flatulence (gas) and other occasional gastrointestinal challenges produced from the fermentation of indigestible complex carbohydrates in the intestine*
Support the breakdown of cellular debris, undigested protein and toxins in the circulatory system*
Support the breakdown of undigested proteins*
Support the breakdown of undigested fibers*
Support the bulking effect of fibrous foods*
Support the breakdown of non-digestible synthetic commercial fibers*
Support daily or routine heavy metal elimination and detoxification*
Support healthy cholesterol a and triglyceride levels already within the normal range*
Maintain healthy blood pressure levels already within a normal range*
Support muscle function and relaxation*
Support immune system functions*
Support good bacteria in the gastrointestinal tract*
Support biological functions and enzymatic reactions*
Enhance energy levels and stamina*
SUGGESTED USE:  2 capsules with each meal and at bedtime. More or less may be taken for occasional indigestion or elimination discomfort, or as directed by a healthcare professional.
When directed by your healthcare professional, it may be beneficial to use MagEase-Zyme at bedtime to help support the elimination of excess intestinal waste accumulation and support and soothe regularity.*
---
*These statements have not been evaluated by the Food And Drug Administration. This product is not intended to diagnose, treat, cure, or prevent any disease.
The information listed on this website is intended for educational purposes only. It is not intended to cure, treat, or prevent any disease. The information contained herein should not be used for diagnosing or treating a health problem or any disease. It is not meant as a substitute for the advice provided by a physician or other healthcare professional. If a medical concern is suspected, always contact a physician, or a healthcare professional.*
Any use of such materials, including any copying, reproduction, modification, sale, distribution, transmission, republication, downloading, display, posting, performance, or other exploitation thereof by any means or medium without the prior written permission of HEALTHY REFLECTIONS® or HEALTHY ALTERNATIVES INC™ is strictly prohibited.