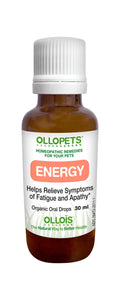 Suitable for all types of animals including dogs, cats, rabbits, and birds.
Give Ollopets Energy to helps boost your pet's activity when specific needs occurs or they exhibit the following symptoms:*
Convalescence
Intensive training
Lack of appetite
Apathy
Organic oral drops formulated optimally with 9 different homeopathic remedies to address loss or need for more energy in pets. Recommended by veterinarians. Easy to use. Safe & gentle on your pet. 
Organic
Cruelty free
Made from natural substances
Vegan & gluten-free
No side effects of traditional medications
Made in Canada