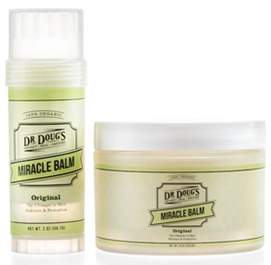 Simple, 100% organic, ingredients.  No preservatives. Dubbed Miracle Balm for its quick-relief, healing, and long-lasting qualities. Many have told us this is their everywhere, no-matter-what problem, "Go-To Balm".
 Fortified with essential oils for anti-oxidant, anti-inflammatory, and counter irritant effects.  The all-natural ingredients provide a soothing moisture barrier in addition to calming the fires of cuts, cracks, and insect bites.
Use as an everyday skin moisturizer
No greasy residue
Soothes itchy and dry skin
Heals cuts, scrapes and more
Use as a soothing eczema cream
Natural eye makeup remover
Treats and prevents chafed skin
Protects nails, hands and feet
Trail and obstacle race tested
Athletes: The best for preventing blisters and chafing.
 How to Use:
Apply a thin coat anywhere your skin needs moisture. A little goes a long way!  Your skin will feel smooth when rubbed in well (pro tip: if it feels greasy or tacky after rubbing in, you've used too much – try a bit less next time). 
 Original Miracle Balm 100% Organic Ingredients:
Beeswax, Extra Virgin Olive Oil, Extra Virgin Coconut Oil, Shea Butter, Peppermint Oil, Lavender Oil, & Vitamin E.