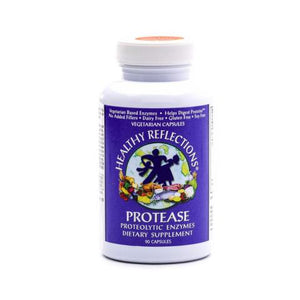 SUPPORT CIRCULATION
These Proteolytic, Lipolytic, Cellulolytic, and Amylolytic Enzyme formulas help to promote circulation, Immune modulation, and detoxification, while helping to support the circulatory, lymphatic, cardiovascular and urinary systems.
Gluten Free • Non-Dairy • Non-Soy
Vegetarian Capsules • No Added Fillers
90 capsules per bottle
 PROTEASE ENZYMES
 "For High Protein Lifestyles"
This synergistic blend of active vegetarian proteolytic and fibrinolytic enzymes was designed specifically to help:
Support digestion of high protein foods*
Support digestive comfort*
Support the digestion and assimilation of proteins to promote systemic balance*
Support digestion of proteins found in meats, fish, poultry, grains, nuts, milk proteins (caseins) and gluten*
Support protein digestion throughout the entire digestive tract*
Support Intestinal bowel regularity or occasional constipation*
Proper waste elimination*
Support the breakdown of protein based organisms in the small intestine*
Support the breakdown of cellular debris, undigested protein and toxins in the circulatory system*
Support the healthy release of heavy metals and other substances in the detoxification process*
Ease occasional digestive discomfort, bowel irregularity and elimination*
Support heavy metal elimination and detoxification*
Support occasional minor aches, pains and muscle soreness associated with daily life*
Support temporary relief of occasional joint discomfort, muscle cramps, minor aches, pains, soreness*
Support joint comfort and health*
Support a healthy circulatory system*
Support immune system function*
Support lymphatic system function*
Support muscle relaxation*
Support hormone functions*
Support a healthy respiratory system*
Support a healthy urinary system*
Support the immune system*
Support ear, nose and throat functions*
Support maintenance of throat, sinus and eye health*
Support women's health and hormones*
Support a healthy balance of intestinal flora*
Support protein and nutrient absorption*
SUGGESTED USE: 1 capsule twice daily preferably upon rising and at bedtime, with 8 oz. of water. Additional capsules may be taken if needed, or as desired by a healthcare professional.
When directed by your healthcare professional,

 

it may be beneficial to take this formulation with protein meals or on an empty stomach to help relieve digestive stressors.*
---
*These statements have not been evaluated by the Food And Drug Administration. This product is not intended to diagnose, treat, cure, or prevent any disease.
The information listed on this website is intended for educational purposes only. It is not intended to cure, treat, or prevent any disease. The information contained herein should not be used for diagnosing or treating a health problem or any disease. It is not meant as a substitute for the advice provided by a physician or other healthcare professional. If a medical concern is suspected, always contact a physician, or a healthcare professional.*
Any use of such materials, including any copying, reproduction, modification, sale, distribution, transmission, republication, downloading, display, posting, performance, or other exploitation thereof by any means or medium without the prior written permission of HEALTHY REFLECTIONS® or HEALTHY ALTERNATIVES INC™ is strictly prohibited.