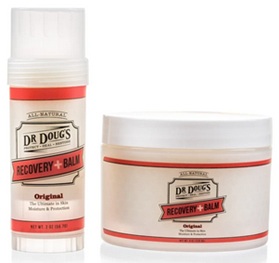 This all organic Recovery Balm helps your body recover the natural way. Soothing Arnica Montana sunflower cream is combined with magnesium chloride salts found in seawater to provide pain relief and reduce muscle soreness. In addition to its healing properties, our Recovery Balm works as a moisturizer, repairing and replenishing the skin to improve skin quality.
Reduces bruising, swelling and soreness
Helps with joint pain, stiffness and body aches
Use for muscle pain and nerve pain
Moisturizes and improves skin quality
 How to Use:
Gently apply onto skin of affected areas, avoiding eyes and mouth. Reapply twice a day or as needed.
 Recovery Balm Ingredients:
Organic Beeswax, Organic Coconut Oil, Organic Olive Oil, Organic Arnica Montana, Magnesium Chloride, Organic Lavender Oil, Organic Peppermint Oil