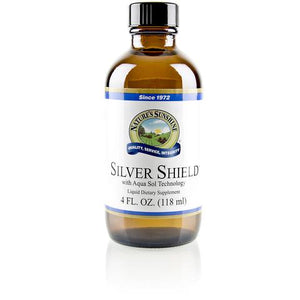 18 ppm/4 fluid ounces
Benefits:
A colloidal silver product that supports the immune system.
Uses fine particle-size colloids for maximum bioavailability.
Is non-toxic; poses no risk of heavy metal contamination.
Provides 90 mcg silver per serving.
How It Works:
NSP Silver Shield with Aqua Sol Technology is processed by the kidneys and may not affect populations of beneficial bacteria in the colon.
NSP Silver Shield is a safe and effective product. It is manufactured using a patented process with strict quality control to verify potency and purity. The result is fine, particle-sized colloids with 99% bioavailability.
Ingredients:
Silver (a specially processed colloidal silver).
Recommended Use:
Take 1 teaspoonful with a meal three times daily.  Do not mix with salt or salty liquids.