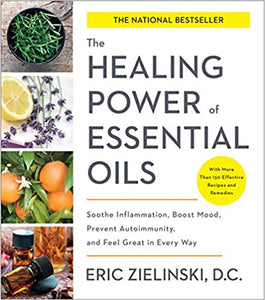 Essential oils offer natural treatments for a host of health conditions, from anxiety and depression to hormonal imbalance, digestive distress, sleep disorders, and even autoimmune disease. 
The Healing Power of Essential Oils
 includes recipes and formulations for all of these health needs and more—all backed by extensive scientific research and the trusted guidance of public health researcher and aromatherapist Eric Zielinski, D.C. 
Some of the unique recipes you will master:
• Morning Meditation Body Oil
• Sweet Slumber Diffuser Blend
• Citrus-Powered Pain Relief Roll-On
• Anti-Anxiety Spray
• Inflammation-Soothing Capsules
• Homemade Chocolate with Lavender and Goji Berries
And more!
Dr. Z's thorough, evidence-based approach helps you take control of your health, whether you're new to essential oils or you're ready for advanced techniques. With your newfound knowledge you can tailor an essential oils practice that fits your unique needs—and start experiencing amazing results.