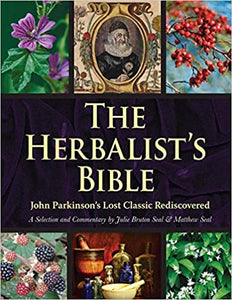 A lost classic of Western herbalism—rediscovered and restored with 200 full-color images.
Herbalist to King Charles I, John Parkinson (1567–1650) was a master apothecary, herbalist, and gardener. Famous in his own lifetime for his influential books, his magnum opus, the 
Theatrum Botanicum,
 was published in 1640 and ran to 1,766 large pages. The sheer scope and size was perhaps to prove the book's downfall, because while it was much revered—and plagiarized—it was never reprinted and, centuries later, has attained the status of an extremely rare and valuable book. Parkinson was writing at a time when Western herbalism was at its zenith, and his skills as a gardener (from his grounds in Covent Garden) combined perfectly with his passion for science, observation, and historical scholarship.
In the 
The Herbalist's Bible,
 Julie Bruton-Seal and Matthew Seal have beautifully combined selections from Parkinson's book with their own modern commentary on how each plant is used today to create a truly one-of-a-kind, comprehensive collection of herbal information old and new. Parkinson's clear and lively description of a chosen plant's "vertues" or healing properties side-by-side with the editors' notes—including copious herbal recipes—make this the perfect book for students and practitioners of herbalism, historians, and gardeners, all of whom will welcome this restoration of Parkinson's lost classic.