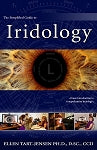 What Can Your Eyes Reveal?
 Have you ever wondered why you have such interesting colors and patterns in your eyes? Have you wondered if your eyes can tell you something about yourself?
These questions and more are answered in the informative new book,
 The Simplified Guide to Iridology!
 What is Iridology? Iridology is the science of analyzing the colors, patterns and structures of the Iris of the eye and how they relate to our body's health. Iridology can even give us a glimpse into our individual personalities!
 The Simplified Guide to Iridology by Ellen Tart-Jensen Ph.D., D.Sc. CCII is an up-to-date introduction into this fascinating subject. In this book, you will discover the amazing world of information that can be found within your eyes!
 In The Simplified Guide to Iridology you'll learn:
·    What the colors and structures of the iris can tell you about your health.
·    Areas of the iris that will show either potential strength or deficiency in each body organ.
·    What specific markings in the iris look like and what they may mean to your health.
·    How the iris can reveal several of your unique personality traits.
 And so much more!
 You'll quickly learn the basics of Iridology with this handy guide. This book is excellent for aspiring Iridologists and alternative health practitioners alike, but is suitable for anyone interested in learning Iridology.
 What can your eyes reveal? Why not find out, with the help of Ellen Tart-Jensen and
 The Simplified Guide to Iridology!