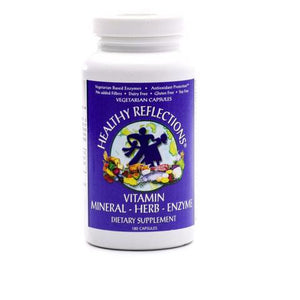 BUILD A STRONG FOUNDATION for good health with this formulation to assist the body to function at peak efficiency.
Gluten Free • Non-Dairy • Non-Soy
Vegetarian Capsules • No Added Fillers
180 capsules per bottle
VITAMIN - MINERAL - HERB - ENZYME
"Supports Healthy Nutrition and General Well Being"*
A synergistically comprehensive product that contains a combination of vitamins, minerals, herbs and enzymes which provide a source of important nutrients designed to help support the body's nutritional status and general well-being.*
Specifically, this formulation was designed to help:
Offset some of the occasional nutrient short comings that can be caused by the modern lifestyle*
Improve the digestion of meals*
Support's the body's digestive system to ensure delivery of nutrients*
This enzyme blend to also function as an enzyme delivery system (e•d•s®) to facilitate the release of the whole botanical ingredients in this product, thus unlocking the full potential of the product*
Provide protein digestion*
Digest fatty foods*
Digest starchy foods and refined sugars*
Digest the sugars found in milk and dairy products*
Digest the bonds of Cellulose (an indigestible structural carbohydrate of plant cell walls)*
Occasional low energy, fatigue*
Enhance health, stamina, energy and vitality*
Vitamin or mineral deficiencies*
Support mineral absorption*
Support nutritional nutrients when consuming low calorie meals*
Nutrition related hair, skin or nail problems*
Support a normally functioning immune system*
Support the nervous system*
Support the immune system*
Support antioxidant protection*
General nutritional support*
Be a useful supplement for:
Digestive support**
Immune system support*
Nervous system support*
Connective tissue formation*
Metabolic support*
Strong teeth and nails support*
Strong bone and joint support*
Support healthy hair, skin and fingernails*
Calcium metabolism*
Muscle function support*
Nerve impulse transmissions*
Nervous tissue support*
Nerve and muscle functions*
Building muscles, metabolic enzymes, neurotransmitters and other essential biochemicals*
Metabolic and cartilage support*
Support healthy cholesterol and triglyceride levels already within the normal range*
Liver support*
Cardiovascular system support*
Circulatory system support*
Support healthy heartbeat and blood pressure levels already within the normal range*
Premenstrual support*
Hormone support*
Reproductive support*
Support occasional minor aches, pains and muscle soreness associated with daily life*
Respiratory support*
Support blood sugar levels already within the normal range*
Brain function support*
Neurological support*
Mood Support*
Vision support*
Urinary Tract Support*
Weight management*
Preventing the absorption of lead and cadmium (toxic heavy metals)*
Heavy metal release*
Detoxification support*
Anti-oxidant support to help support the body's natural response to cellular degradation and aging*
SUGGESTED USE:  3 capsules with a meal twice daily, or as directed by a healthcare professional.
When directed by your healthcare practitioner,

 

it may be beneficial to take 2 capsules with each meal.
---
*These statements have not been evaluated by the Food And Drug Administration. This product is not intended to diagnose, treat, cure, or prevent any disease.
The information listed on this website is intended for educational purposes only. It is not intended to cure, treat, or prevent any disease. The information contained herein should not be used for diagnosing or treating a health problem or any disease. It is not meant as a substitute for the advice provided by a physician or other healthcare professional. If a medical concern is suspected, always contact a physician, or a healthcare professional.*
Any use of such materials, including any copying, reproduction, modification, sale, distribution, transmission, republication, downloading, display, posting, performance, or other exploitation thereof by any means or medium without the prior written permission of HEALTHY REFLECTIONS® or HEALTHY ALTERNATIVES INC™ is strictly prohibited.