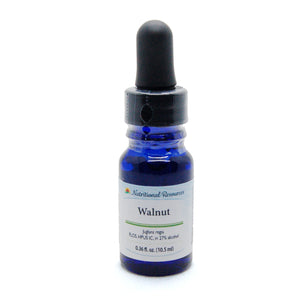 For those experiencing periods of transition and change.
Psychological Characteristics: Going though change, may be unsettled, want to be left alone to resist the influences of others, easily influenced during times of change in their life, need help in time of transition either to break from the past or accept the new.
Physical Indications: Signs of change are apparent: puberty, parenthood, change of life, serious illness, jobs, retirement, death, moving, advancement, divorce, tragic circumstances, etc.
Positive Outcome: Embraces change and moves forward in a positive manner with an inner strength to follow one's own destiny without influence from others.
Directions: Two to three drops in a quarter glass of water (or taken directly under the tongue). Sip at intervals. Concentrated homeopathic remedy, enough for many months use.
Juglans Regia
FLOS. HPUS 1C, in 27% Alcohol
0.36 fl. oz. (10.5ml)
Warning: Keep this and all medicines out of the reach of children. As with any drug, if you are pregnant, nursing or if symptoms persist, consult your health care professional before using this product.
 *These statements have not been evaluated by the U.S. Food and Drug Administration. These products are not intended to diagnose, treat, cure or prevent any disease.